I have officially lost my mind.
There is just no other reasonable explantation for why I would sign up to run a half marathon.
Yes. You read that correctly. A HALF MARATHON. (My blood pressure went up a little bit just writing that.)
Here is how it happened. I had the following conversation with Lisa, my friend of over ten years, via text:
Lisa: Want to train and do the girlfriends 1/2 in oct w me 😉
Me: Ha ha ha ha!
Me: I mostly joke because that scares the crap out of me. The furthest I have ever run without stopping is a 5k. I don't know if I could do 13 miles….
Lisa: No! Come on. Would be fun
Lisa: Me either…freaks me out to think about it…but it is in oct. My goal…to finish 😉
Me: But yes. I would love to. Especially the training part. Do you have a program you want to follow?
Me: Mostly I would love to do it because (not only is it BADASS) but I love those stickers that say "13.1 miles because I'm only half crazy."
In hindsight, I'm a little embarrassed with how easily I gave in. I mean I actually used the word "love" with regards to a half marathon! Was this something deep, DEEP in my subconscious I actually wanted to do? I guess so. Bucketlist, here's your newest item!
Then I had another conversation with Cyndie, my running inspiration who got me into Stroller Strides and gave me the confidence and encouragement to actually start running in the first place, via text:
Me: If someone were to want to train for a half (specifically Girlfriends), where would you suggest they start?
Me: I'm asking for a friend… 😉
Cyndie: BY REGISTERING!!!!! Wahoooo!
Cyndie: I mean, you know, for your friend…
Me: Ha ha ha. I thought that's what you might say.
Cyndie: I'm not home but will be happy to email some stuff this weekend. Seriously, just do it. 🙂
And so I did. I went to the Girlfriends site and registered. Before I could change my mind.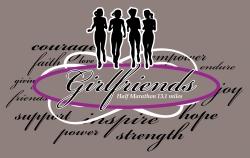 Lisa is one of the very few people who could actually convince me to do something like this. For one thing, our lives have taken us in very similar directions. We worked together in our past (read: pre-children) lives. We both had our second daughters a mere five months apart. And we both spent the majority of last year on the same path to weight-loss (I lost over 30 pounds and Lisa lost, um, significantly more than me). So it only made sense for us to embark on this together. I am looking forward to conquering this challenge with my amazing friend at my side.
For me, every adventure begins with shopping. Cyndie followed through and sent me a link to Another Mother Runner and highly suggested I read their books, Run Like a Mother and Train Like a Mother which I promptly added to my Goodreads "to-read" bookshelf and will be buying for my Kindle later today. Then I stumbled upon the clothing links and found this awesome shirt and my new running motto:
So, anyone else feel like losing their mind in the name of health and joining me on this adventure?? It's not til October so we have TEN MONTHS to train. What can you accomplish in 10 months? Anything.