Over the weekend Simeon, Ana, and I took a trip to Bend, Oregon. Simeon presented for the Central Oregon Web Professionals' Usergroup (COWPU) on Thursday night and we decided to make a long weekend of it and stuck around for a few extra days. Sort of a mini vacation. One of the perks of being a stay at home mom is my ability to travel alongside my husband whenever he goes any place I deem worth visiting. I don't even have to ask for time off…I just bring my "boss" along with me.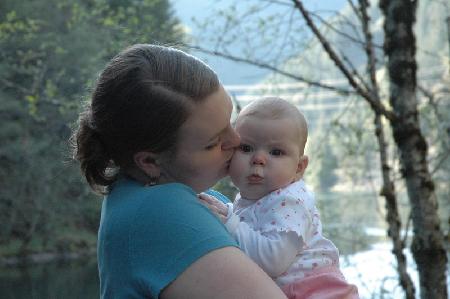 The 4-hour drive was Ana's longest traveling period to date (via car and/or plane) and she did great. We just stopped a couple times to let her out of the car seat, stretch her tiny legs, and get a little something to eat. She spent the rest of the time sleeping away while Simeon and I listened to an audio book (the latest Artemis Fowl, The Lost Colony, if you are curious).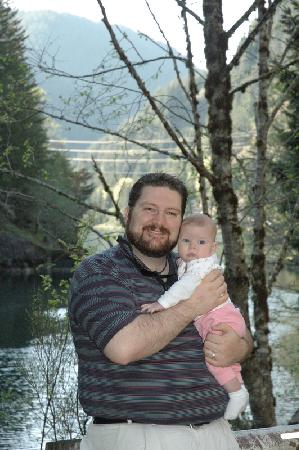 When we booked our hotel we made sure to get one with an indoor pool so we could take Ana for her first swim. I picked out a cute little swimsuit (I intended to get her a one-piece, but the ones in her size were all ugly. Plus I reasoned that she wouldn't outgrow it as fast since the majority of her growth is in length.) and a reusable swim diaper. So as soon as we had a spare moment, we slipped on our suits and headed to the pool. Ana did great. Simeon had me take her in first so he could catch her first swim on video (are we total first time parents or what?). At first she was a little scared and kinda shaky, but she quickly warmed up when she realized I wasn't going to drop her. By the time I switched off to let Simeon play with her while I took some pictures, she was splashing around and kicking her feet in the water. So freakin' cute!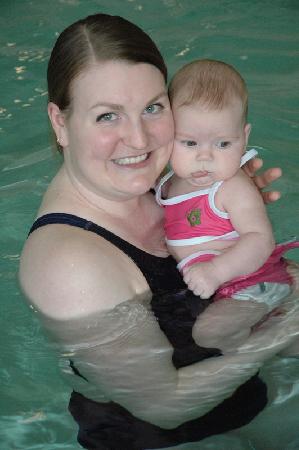 We played around in the water for a while until Ana started to get cold and went back to our room. We decided now would be the perfect time for her to have her first shower. Up to this point she has been strictly a bath girl. At home it's just easier in her own little tub and the last time we were in a hotel I gave her a bath in the sink since Sim wasn't there to hand her off once she was done (I don't know how to wash and then dry off myself and a baby at the same time. I am just not that good yet).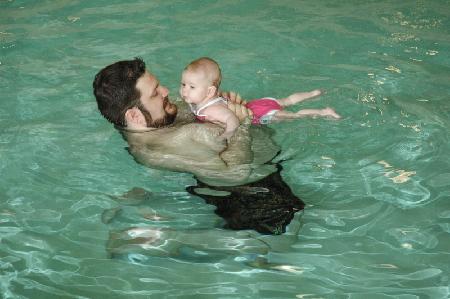 Once again, traveling brings out the milestones for Ana. She took an extended car trip, had her first swim in a pool, and took her first shower. My goodness! I wonder what new things we can have her do when we are in Minneapolis, Minnesota next week for cf.Objectve.