Dear Ana,
Yesterday you turned thirty-two months old. While we were driving in the car, I remembered that it was the 9th and mentioned to your Daddy that I needed to write your letter. You overheard me and asked, "Write a letter to me?" To which I replied, "Sure. I write a letter to you every month." Then you surprised both Daddy and I when you said, "Awww!" And I am very glad that you (for now, at least) feel that way. It makes it more special knowing that you appreciate the things I do for you.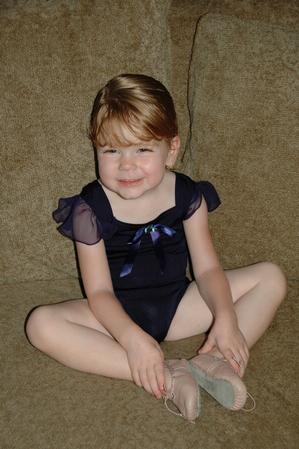 Yesterday was a busy day all around. Aside from being your month-o-versary, you and Daddy participated in the Providence Bridge Pedal. It was a six-bridge "family ride" that took you over the Hawthorne, Ross Island, Marquam, Burnside, Broadway, and Fremont bridges. It was about 14 miles and you and Daddy did it together. He loaded you up in the Burley (along with Baby Amalia, your new bride Barbie, a water bottle, and enough snacks to feed a small army) and you two rode all around Portland in places that bikes are only allowed one day each year. I could not be more proud of you both for completing this amazing accomplishment.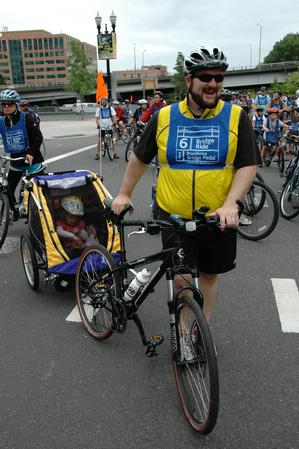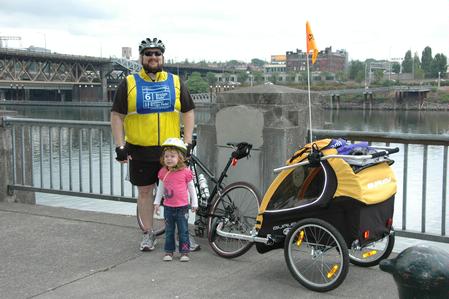 There were also several other "firsts" this month. You went fishing for the first time with your friend Beckham (and his family, of course, since he is also only two years old). You were so excited to go fishing once you discovered a pink Barbie fishing pole at Target. I let you get it because, unbeknownst to you, we had already made a date to go fishing with our friends. You were so excited, and would walk around the living room pretending to cast your line, and then reel it back in. I explained the whole process to you, but I don't think we really talked about what happens after you caught the fish. You were a little shocked to see a wet, wriggling, creature pop out of the water. And you were more than a little traumatized when we removed the hook from the fish's mouth (it swallowed the hook and bled quite a bit when we pulled it out). To this day you will sometimes say for no reason at all, "Remember all that blood in my fish's mouth?" Yeah, sorry about that.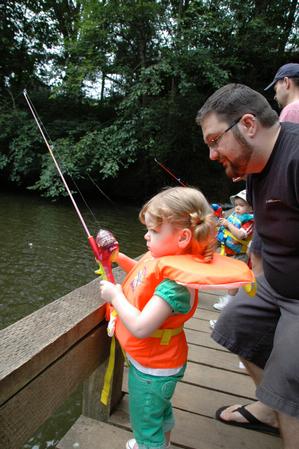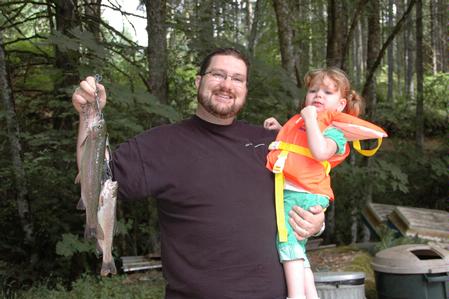 But you had another first this month that wasn't nearly as traumatic. In fact, I was not expecting it to go as well as it did! I took you horseback riding and you simply loved it! We went to this adorable place in Wilsonville called Once Upon a Horse and you got to ride, brush, and feed the horses. The horse you picked was named Sugar and now anytime we even mention the word "sugar" you instantly pretend you are doing something pertaining to horses. Whether it's turning your shoelaces into reigns and yelling, "giddy-up!" or galloping off around the room. I think we may have found a new obsession for you, my dear!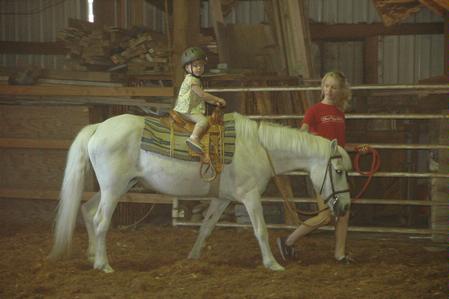 After our horseback riding outing you were so exhausted you slept in the car and so you didn't want to take a nap like you normally do after lunch. You laid in bed for about a half hour talking and singing before I finally gave in and let you get up. About an hour later, after a snack and playing with your toys, you informed me you were going upstairs to play with your Dora dollhouse. I didn't think anything of it, since this is something you do quite often, but about 10 minutes went by and it was really quiet upstairs. That is not normal; when you play there is pretty much always a steady stream of commentary. I snuck up to your room to find you had removed all your decorative pillows, tucked yourself into bed, and actually went down for your (albeit delayed) nap. Let me say this again: YOU PUT YOURSELF TO BED. I could not believe it. And since that day you have done it a few more times, so it wasn't just a fluke. I have to say I lucked out because you are the only two (and a half!) year old I know who puts herself to bed!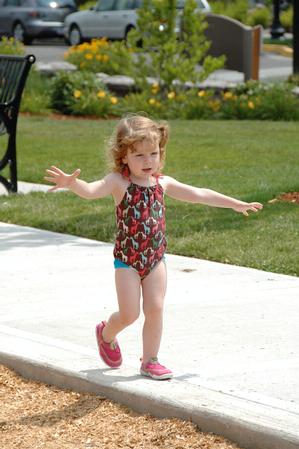 As always, I have been keeping you busy in parks and rec classes. Even though it's summer, I wanted to keep our routine pretty normal (i.e. busy). The other day I got to see your Munchkin Sports Class for the first time. The class is on Saturday mornings and so you get to go with Daddy. However, I didn't pick the best day to watch. It was one of the hottest days of the year and I don't think the gym was properly air-conditioned. Then to top it off, you were playing tennis and basketball, which were clearly not your favorites. According to Daddy, you really enjoyed the days you played soccer or on the scooter boards. We both knew you would be interested in soccer, but our rec center doesn't offer a focused sport until you are three years old. Until then, you get the "sample" of sports. I thought this would be a good way to expose you to a variety of different sports, particularly those that Daddy and I might not lean towards personally, in an attempt to see what you really like, not just what we want you to like. Well, it was very clear how you were feeling on this particular day, and I have to say, I didn't blame you one bit.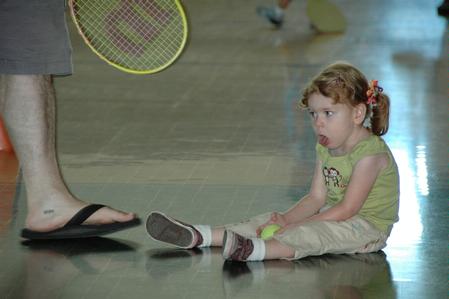 You are also in a Pre-Gymnastics class. Back before the class started you and I had the following conversation:
Me: "Ana, you are starting a gymnastics class next week. Aren't you excited?"
Ana: "But I'm too little."
Me: "No, you only have to be two. You are two so you can go to gymnastics!"
Ana, pausing to think, "Oh…" then you sadly added, "But I'll be three in December. Then I can't go!"
Me: "Sure you can. You just had to be at least two. You can be two…three…four…"
Ana, shocked: "Oh I just can't believe it!"
I have to add that I was totally shocked by your ability to reason through the conversation we had. Now that I mention it, some of the talks you and I have, I didn't think I would be having for YEARS down the road. Another example is your latest favorite expression that makes me smile every time you say it: "Excuse me, guys. Can I add something to your conversation?" Seriously? Are you sure you are only TWO years old?!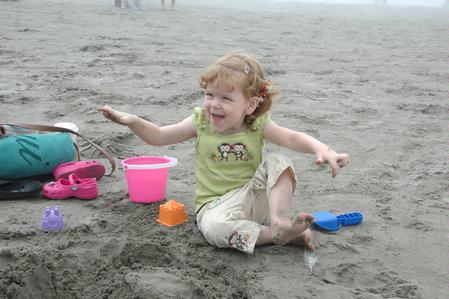 During some of the really hot days we had this month, we took a little escape from the heat and went to Seaside. It's times like this that it is really nice that we still have a lot of family living on the coast. We get to drop by whenever we want and we always have a place to stay. It's nice having once been a local in a tourist trap because we know all the back roads to get around, how to avoid the crowds, and where to get the best food. But it sure is fun to come back and play tourist! We built sandcastles (which you would destroy with evil glee) and ran in the ocean until you couldn't run anymore.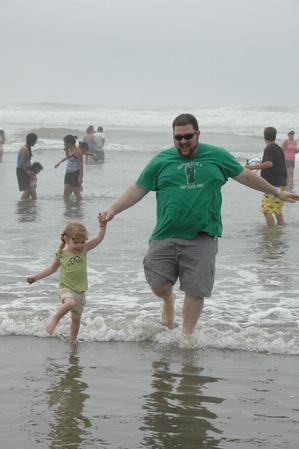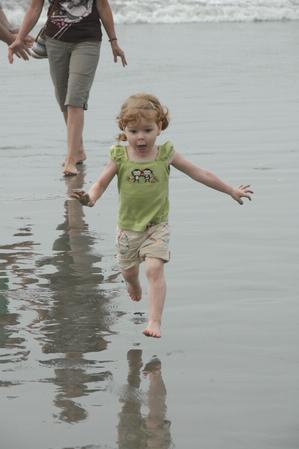 Another one of your favorite activities lately is playing doctor. You are quite literally obsessed. You will play any and every chance you get. There are some of your friends that when you get together for a playdate you will spend the entire two hours taking turns being the injured patient and the doctor. We have two, no wait, three medical sets because of course no one set contains all the tools that you "need" to have. So we now have an assortment of stethoscopes, blood pressure gauges and cuffs, thermometers, syringes, tweezers, and bandages so you can heal even the worst injury.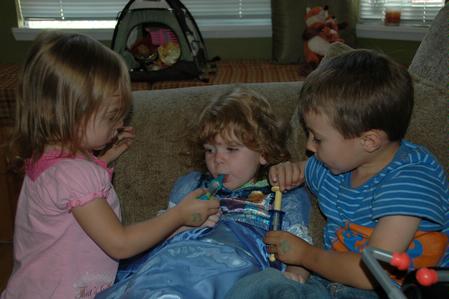 Looking back over the last month, we have done so many new and exciting things and you have taken it all in stride. I am quite impressed. Many children I know are afraid of new things, preferring to be creatures of habit, seeking solace in monotony. But not you. You wake up each morning eager to start the day, asking, "Where are we going today, Mama?" I love the zest for life that we somehow managed to teach you and that, even more impressively, you grasped with such fervor that it radiates through you. But it doesn't stop there. You inspire others. You make me want to try new things, to get out there and just DO something in a way that nothing else ever has. And as long as we do it together, I know it is going to be the most amazing adventure I have ever taken.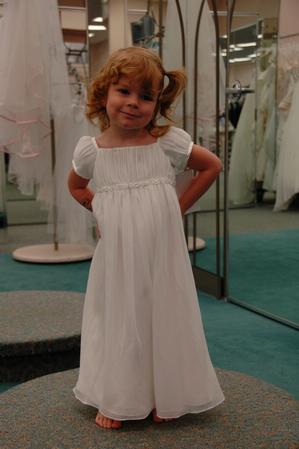 All my love,
Mama