Man, it's been quite a week. Yesterday I took the 3-hour Glucose Tolerance Test (because I didn't pass the 1-hour test I took last week). It's not an experience I would wish upon anyone, but I've been there before so I knew what to expect. Then today I had a follow up ultrasound to check a few things they couldn't see last time AND my regular monthly doctor's appointment. Whew!
So my glucose test went just as expected. It was nauseating and exhausting. There is nothing worse than starving a pregnant women…until you start sticking her with needles. A 12-hour fast, one sickly sweet bottle of double-the-sugar Glucola, and four blood draws later, I was done. Sim and Ana met me for lunch and then I went home and took a two-hour nap. And was still a zombie for the rest of the day. At least I won't be doing that test again anytime soon!
This morning I had another ultrasound. It turns out at my last ultrasound the tech wasn't able to get a good look at the baby's eyes, hands, and… one other thing that I cannot remember for the life of me. Anyway, today they were able to see everything and it all looks normal. The baby is in the 57th percentile and weights about 2 lbs. Aside from reassuring us that everything is going great, it's always fun to get another glimpse of my daughter. I mean, is this not the cutest little profile ever?!?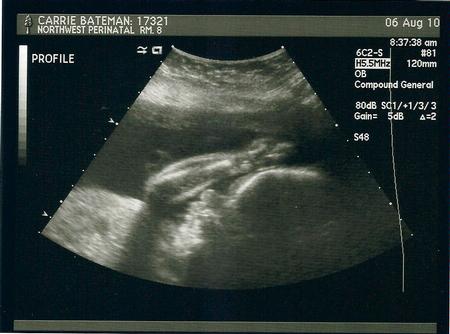 Then right after the ultrasound I had my 26 week (rounding up again, since I will be 26 weeks on Sunday) doctor's appointment. I have this to report back:
Weight: up 5 lb since last month (6 lb total gain)
Blood Pressure: 120/70
Baby's Heartbeat: Normal, in the 140s
When I got home this afternoon, I got a call back from my doctor's office letting me know they got the results back from my glucose test and I did not pass. So it looks like I have gestational diabetes. Again. Oh well, it's not like I haven't been through this before. I know it's not an optimal outcome, but truthfully it's not like I know it any other way. If nothing else, I know I can handle it and I know this will help me to do the best I can to bring another healthy baby into the world. I know I can manage the diet (even Simeon is looking forward to the most effective diet we have ever been on together) and I am already doing the exercise. Sure, it's a little inconvenient, but I will do anything to make my body the healthiest place for my daughter to grow.